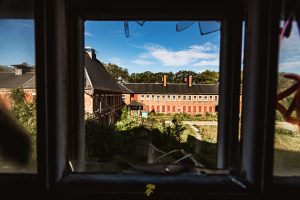 My exploration of this facility was rather limited, I made only two trips to wander Westborough State Hospital in 2018, with the second being interrupted by moderate police presence. It would then be demolished the following year. I never got to see the glorious auditorium and many of the other buildings and grounds. The one day I did get to explore includes the cafeteria and kitchen areas and several wards and private rooms.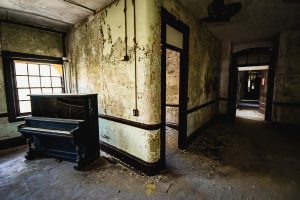 Westborough State Hospital was a hospital along Route 9 in Westborough, Massachusetts. Built in 1885 by architect Henry H. Richardson, known for his style of Romanesque Revival architecture, on the grounds of the former State Reform School for Boys campus, and opened on December 1, 1886. By 1895, the recovery rate at Westborough was regarded as the highest in the state. The hospital would eventually feature bacteriological, chemical, and pathological laboratories, X-ray, physiotherapy and surgical departments, hydrotherapy, and occupational therapy for patients, being the second homeopathic state hospital in the nation.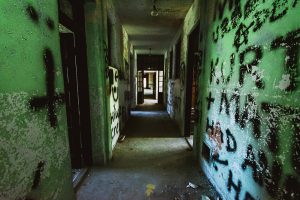 Solomon Carter Fuller, a pioneering psychiatrist known for his ground-breaking research on the physical changes to the brain of Alzheimer patients, practiced at the hospital for most of his career as a neuropathologist. With Fuller's interest in the study of neurological and psychiatric disease, and their neuropathological basis, led him to conduct post‐mortem examinations voluntarily during this period. He also developed and edited the Westborough State Hospital Papers, a journal that began publishing results of local research.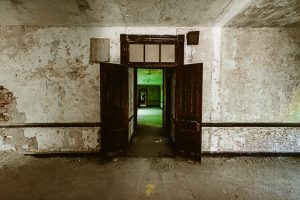 Originally known as "Westborough Insane Hospital", the facility was home to hundreds of patients, many who were there for much of their lives. Many suffered from mental illness and were too ill to go back home to their families who could not or would not support their complex needs. Framingham State Prison would also send their more psychotic inmates to be held at the Hospital. Over the years of operation, more than 500 patients died at Westborough State Hospital.  Their remains were unclaimed and subsequently buried in cardboard boxes in a potter's field with only a small stone numbered marker to note their grave.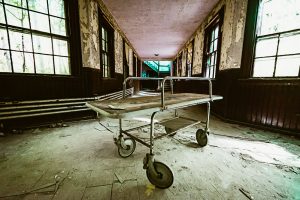 With a new facility being opened in 2012, the Worcester State Hospital, Westborough would close in 2010. Though the hospital was added to the National Register of Historic Places, the facility would be demolished in the summer of 2019. it was the only state hospital in New England with a dedicated unit for deaf and hard of hearing patients. A senior living complex is currently being built where the hospital campus used to be.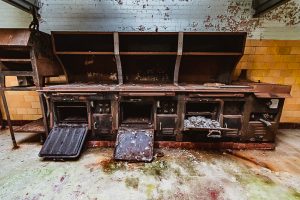 It's the middle of summer and I'm walking on a deer path through the woods to explore an old abandoned mental hospital. The first building I entered was the kitchen and cooking area. Old stoves blackened by fire and rust lined the walls in one smaller room, a huge industrial mixer gathering spider webs on the other side. With all the graffiti, damage to property, and smashed glass, this is definitely where most people of the kids come to play.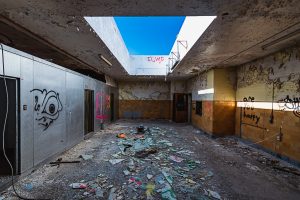 While an empty kitchen has its charm, I was searching for more "hospital" looking settings. I proceeded into the Main Building. Hallway after hallway, each slightly different, yet the same. Doorways led to smaller patient rooms, storage areas, gathering rooms, and administration offices. Rusted spring mattress frames could be found in random rooms and in hallways. Forgotten pianos where found in various places among other relics of the time and place. Paint was chipping from every wall, every wall still standing that is. Part of the wing had collapsed offering a surreal glimpse of what happens over time in a neglected building.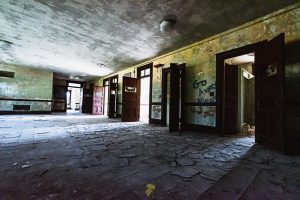 The auditorium was the main target for the second tour of the facility, as I did not find it the first time. Since then I had identified the building and knew exactly how to get there as stealthily as possible as there was no place to hide in between. It was just beyond a large clearing where a road cut through from the buildings I had explored before. This auditorium had seating for 1,000 and featured a pool room and even a bowling alley. As I turned the corner to begin my run across the clearing, I spotted three cruisers all gathered together. State Police with a K9 unit. Immediately I turned around and retraced my steps back into the brush to make my way out. I'll come back another day, or so I thought.