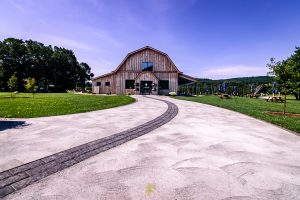 The hop and turf farm is located by the Connecticut River surrounded by farmland with rolling hills towards the west. Four Star Farms has the biggest hopyard in the state of Massachusetts at roughly 17 acres, growing several varieties including Cascade, Nugget, Chaos, Mt. Rainier, Rakau (RIP), Magnum, TeaMaker, and an experimental field.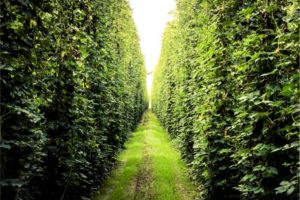 Hops are actually the flowers of the herbaceous perennial plant. The bines grow along string or rope reaching upwards of 18-24 feet tall. The lupulin glands inside the cones contain essential oils and resins that are sought after for flavoring, bittering, and stability agents in beer. They also impart citrus, fruity, and floral aromas and tastes that a lot of us have come to love.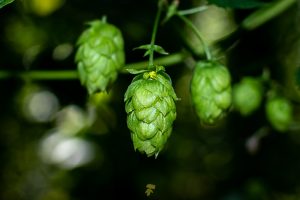 My first visit was in late summer of 2018 on a fieldtrip with Aeronaut Brewing to harvest wild sumac that grows along the boundaries of the property. Two visits were had in 2019, taking part in a gathering of brewers, staff, and crew members from a dozen or so breweries that use Four Star ingredients known as Brewer's Day, rolling deep with Bone Up, then again on my own to wander around.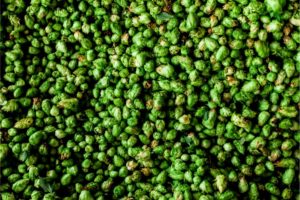 Luckily the pandemic in 2020 did not affect the yearly visit to the farm, and that notion was not taken for granted. I walked down almost every row except for the few rows of Centennial which are the first to be harvested, that I missed by mere days. As the sun began going down, I realized it had been 8 hours since I arrived at the hop farm.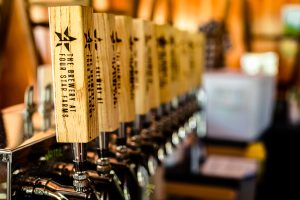 Four Star have just recently opened their very own brewery, currently offering to-go sales of beer and merch. It looks so awesome inside and out! The seven barrel brewery kicked things off with a solid variety of brews including "The Northfielder" a pilsner, "Dark Oast" a porter, and "Bine Cutter" a New England IPA. As they are a hop and turf farm, the brewery only use their own hops in the beer they make and also a few types of grain. Something else that is pretty cool is that trees along the property line were cut down to use the wood for construction, which can be seen from inside the taproom.
One of the most beautiful places in Massachusetts.