Hello there beer industry person! The name is Matt Darcy and I love taking photos and beer, so naturally, I like to mix the two whenever possible. So much so, I took a bartending/taproom operations position at a brewery where I'm also the in-house photographer. In the past several months, I have become Massachusetts TIPS certified as well as earned the Certified Beer Server level from Cicerone (level 2 next!). Needless to say, photography and beer are both passions of mine and want every brewery to have photos of their brews look as good as they taste.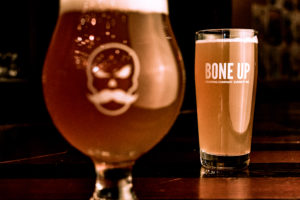 For select examples of my beer-related work, look here. Additional images can be viewed on my Instagram profile.
Below you can find flexible pricing and details on each option. Time frames reflect time while on location, editing time is built in. All high-resolution files are archived and stored securely, just in case something happens to your copies. These are base rates and I am quite open to negotiating. Get in touch and let's take some photos and drink some beers together!
matt@bananamasher.com | @bananamasher
Beer Trade
Just looking for a couple of product shots or perhaps a quick shoot to see if I'm the right photographer for you? Then let's talk trade!
Contact me for arrangements.
Individual Sessions
These are one-off shoots on location and may include more than just beers such as production, staff portraits, or events. This is the best option if looking for a set of images for a specific reason like updating your website.
4 Hour Session – $500
6 Hour Session – $650
8 Hour Session – $800
Monthly Sessions
Constantly brewing? Releasing new/special beer on the regular?  This works for busy breweries who need photos on a reoccurring basis.
Must schedule a minimum of three sessions, in consecutive months.
Each payment is due at the time of each session.
4 Hour Session – $300/mo
6 Hour Session – $500/mo
8 Hour Session – $700/mo
Retainer
For those that are more economical and want more flexibility when scheduling shoots, these discounted prices may be better suitable. This is best if I'll be needed for multiple days in a row or for bigger projects and undertakings. As well as being more on demand than swinging by once a month or every so often.
4-hour minimum increment. Must be paid in advance.
12 Hours – $750
24 Hours – $1400
36 Hours – $2000
48 Hours – $2500