2020/06/25
It's dawn, roughly 60° as I arrive at the trail head that will lead me to Mount Isolation, Rocky Branch Trail. This will make summit number thirteen of the NH48 if I make it to the top.
Aside from a couple people who came in separate vehicles just to hop in one to head to another trail head, I cannot help but wonder what adventure they will have today. Otherwise it seems that I have the trail to myself.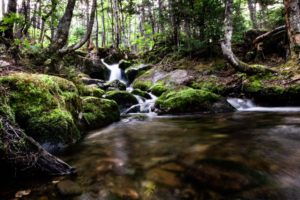 Along the first mile, the sun has risen above the mountain line and beams of light are flooding into the forest. Saw two toads along the way. Pretty flat and smooth sailing towards the end of mile two. Bunch of muck and rock hopping makes it fun and challenging. It smells so clean and lovely. There's the tiniest hint of a breeze, less than 5mph. Birds are filling the silence with chirps and squawks that completely surround me.
Mile three brings More muck and rock hopping! The trees have changed to mostly pine at this point. Right at the three-mile mark I noticed a deer trail and wandered several steps in. Super mucky if not stepping on a root or stone, but in the mud, moose prints!
It's just about 8:30 and I'm four miles in, just arrived at Rocky Branch where Rocky Branch Trail and Isolation Trail intersect. I walked down a little ways to a large rock to splash some water and eat breakfast. Came across my first hiker, seems like they came up from Jericho Road Trail Head or up from Rocky Branch. Around mile five two older gentlemen caught up to me along the second cross over Rocky Branch. The trail began with walking along side the soothing water then quickly transitioned to muck and stones again for a bit. Smells of pine, but not like a Christmas tree, much lighter and cleaner of a scent.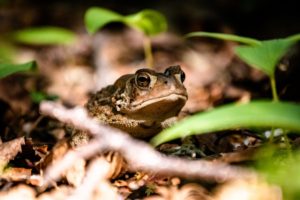 Two more toads, took a bunch of photos of #5. Air smells very sweet, it's pleasant, pure nature. Rock hopping continues. Closing in on the summit of Mount Isolation, a black and gold butterfly fluttered by me on the trail. Hiker #4 came running up on me, exchanged some courtesies and friendly remarks about the weather, then he disappeared before me. Been hovering the treeline being teased by obstructed views. Soon.
It's 11:10 and I have arrived at the summit! Great views of the Presidents. Puffy white clouds the size of Star Destroyers sail by an endless amount of mountains that start off green and fade to blues in the distance. Looking down, the clouds create equal size shadows onto the lush forest below. Bright and dark greens battle for territory. I could sit on the rock forever. Summit beer provided by Bone Up Brewing Company in Everett, MA. I went with "Chimera," a mixed fermentation ale aged in a whiskey barrel from GrandTen with a bit of strawberries and peach that clocks in at 6.5% abv. Really hitting the spot. Departing the summit at 12:30 backtracking to the intersection to head to Davis Path then towards Glen Boulder Trail.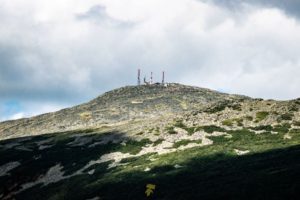 Walking just below tree line, views of surrounding mountains are becoming more and more visible, including Mount Washington. The wind is becoming stronger entering the Alpine Zone along mile ten, though I am offered a view of cascading mountains in every direction. Almost to Boott Spur, a 5,460 secondary peak of Washington, arriving at 15:30.
The views are absolutely incredible descending Boott Spur heading to Glen Boulder Trail. Though this hike is kicking my ass, it has been truly wonderful. Gulf Peak (4,774′) is awesome and provides exceptional views of the previous tackled spur.
Back in the treeline now. I'm officially chasing light along the way back. Almost to the Avalanche Brook Ski Trail! Steep descent straight down rocks, reaching the cross country ski trail at 18:00. The trail is more or less flat ground in a lush and thriving part of the forest, trail looks like it's used more by animals than humans when there's no snow on it. Toad #6 spotted.
Fifteen miles down and all I can think about is eating some meatloaf at Woodstock Inn & Brewery. Toad #7 spotted, tiny little one. So cute! Just over another two miles later, I reach my vehicle.  17.3 miles total, dawn to dusk.