Famous for being the first resort in the world to use artificial snow, it first began in 1917 as a small family run hotel and blossomed into a full resort complete with its own airstrip and post-office. By 1972, the hotel had grown to over 30 buildings seeing 150,000 guests a year, including Rocky Marciano in his fighting days and the marriage of Elizabeth Taylor to Eddie Fisher. Alas, after experiencing too much financial downfall for several reasons, the doors were shut in 1986.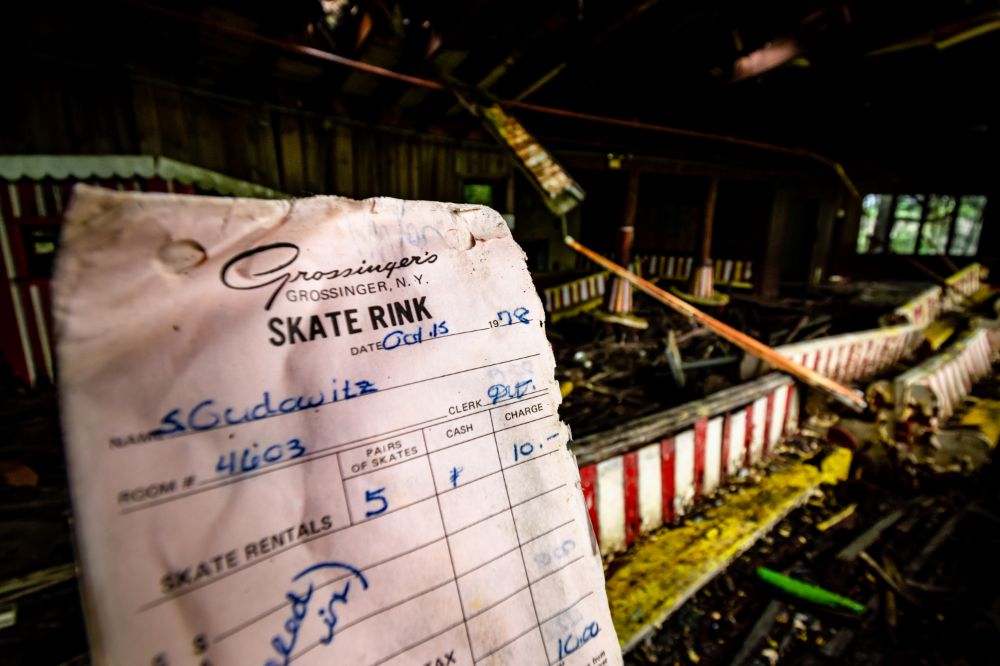 After a quick trek through the surrounding woods, we came upon the first building. Looked to be a section of lesser-expensive lodging. It was difficult to tell with all the walls ripped apart. Onto the next building.
We entered through an opening into a basement, what turned out to be a locker room and showers below a pool. A few massage tables on rollers, chairs, and other various objects appear here and there, but everything is moist and covered in moss, mildew, and mold. After poking around and looking into several doorways we come across a stairway. We ascend into a grand indoor pool surrounded by old folding chairs and graffiti-covered windows.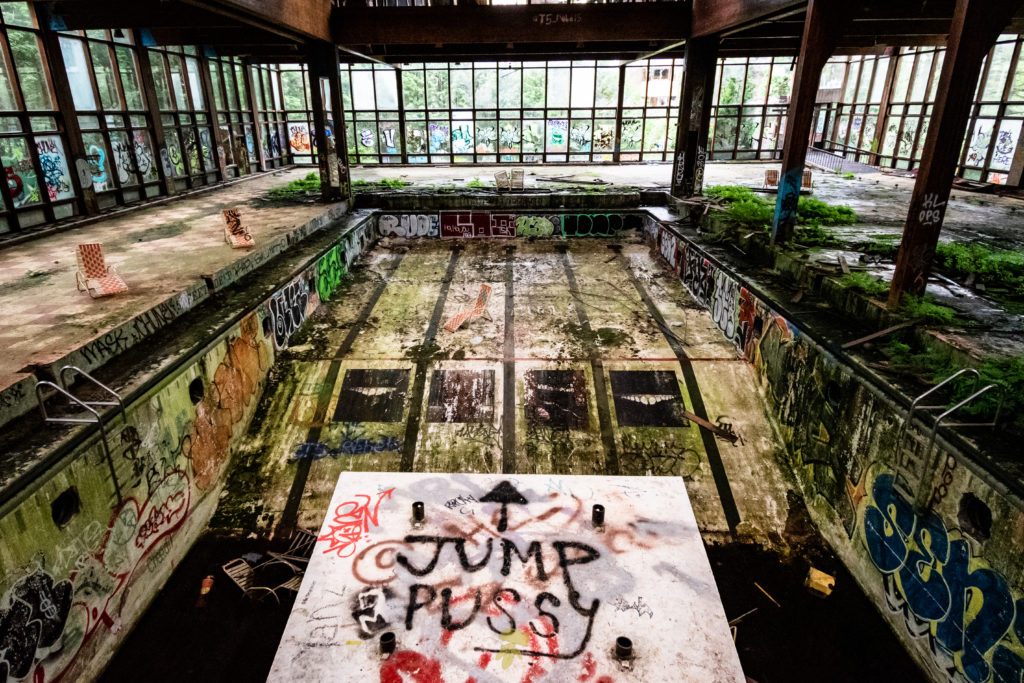 I remember how this place took my breath away. Having floor to ceiling windows on three sides turned this place into a giant green room, to the point that ferns were growing along the side of the pool. The elevated diving board. The faded white and red checkered floor covered in grime. The multi-colored lights hanging from the ceiling outlining dozens of skylights allowing the sun the illuminate the room. My imagination ran wild with what this place must have been like when it was thriving in the 50s and 60s. A lot of time was spent just at the pool, it was truly a mesmerizing place, though having been forgotten about for over 30 years.
Carrying on, we found several other buildings including maintenance structures, a skating rink,  tennis courts, pool/recreational house, and an outdoor pool.
This marvelous place was demolished with the last building to be dropped on October 19, 2018.